Product Packages
[ Everything You Need ]
Ready to start your own cleaning business? Our SmaK packages contain professional equipment, tools and chemicals to help you succeed and start making money right away! Starting a new cleaning business? We provide free training and support to help you grow your business.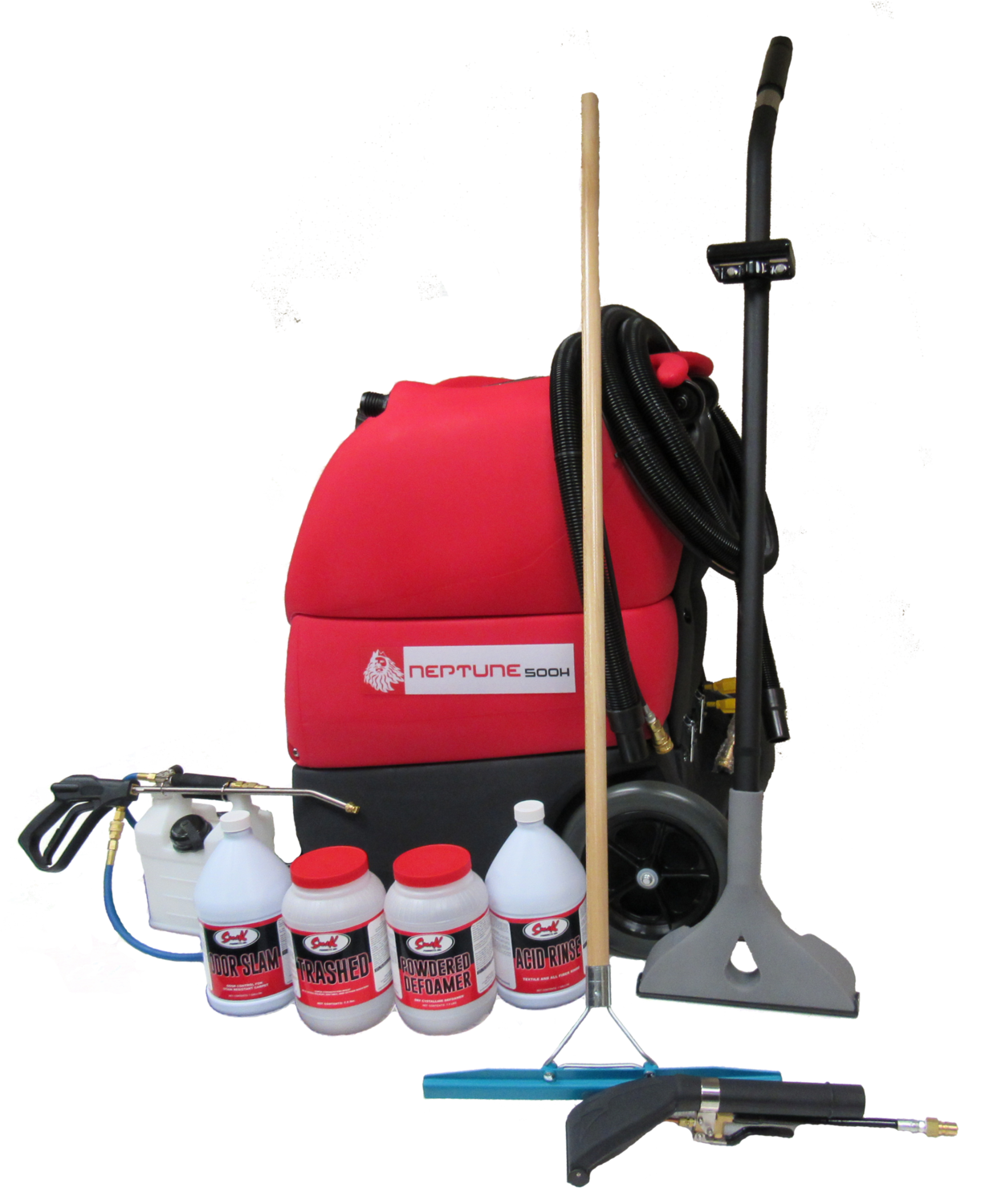 Complete Carpet Cleaning Equipment Package – Neptune 500H
SKU 00015
Product Details
Large Capacity. Heated. 500 PSI Pump
The performance packed Neptune 500H has all the features professional cleaners need to make their cleaning easier out in the field. With its large capacity, 15 gallon solution and recovery tanks, you'll spend less time filling and dumping this unit and more time getting all your cleaning done. This, results driven extractor, has a 0-500 PSI adjustable pump, a large 3-stage vacuum system and a 1750 watt in-line heating system. Both power cords are under 15 amps so you will have no issues plugging this beast in. All built in a strong, rotationally molded body to withstand all the day to day cleaning. This package includes all the tools you'll need for everyday cleaning jobs, including the chemicals to get you started right away.
Do you have limited cleaning experience, we offer training when your equipment arrives!
Package Includes
Call us with questions, to learn more or to upgrade your package. 360.980.2716
Package Additions & Replacement Upgrades Available
(1) Additional Chemical 4-Pack
(1) Auto Detail Package
Replace Value Wand with Sharp Shooter 13" Wand
Replace Value Wand with Trident Standard Wand
FULL RETAIL PRICE $3,487
FACTORY DIRECT PACKAGE PRICE $2,789
SAVINGS $698
Standard Specifications
Pump
50-500psi Adjustable
Heater
1750 Watt In Line
Cord
Dual Cord- 14A/ea | 25' | 12/3
Vacuum
5.7" 3 Stage 140" Lift
Solution
15 Gallon
Recovery Tank
15 Gallon
Shut Off
Ball Float
Drain
24" Hose
Wheels
4" Front Castors
12" Rear Non-Marking
Dimensions
44 x 25 x 33
Weight
132lbs
Warranty
Lifetime Body
2 Years Parts & Labor Components


Save this product for later